More than one year passed since my last blog post. I'm really sorry about that, but my life has changed a little bit. My 3 years old daughter is a very time consuming little girl and she needs my attention. Playing with my home lab all the time is not possible. On the other hand I have a very money consuming car. The last 12 months I had so many expensive repairs, that no money remained for my home lab.
The good news are, I'm back and want to spent time again into my blog and home lab. The bad news are, that running some Unix servers with attached storage are no longer interesting for me.  😉 Thats why I'm not sure what kind of content I can offer you in the future. But it doesn't matter now because I'm rebuilding my entire home lab currently. 🙂 Let's talk a little bit about the rebuild.
As mentioned before I couldn't spent money into my home lab the last months. The following picture shows my old and well-known setup.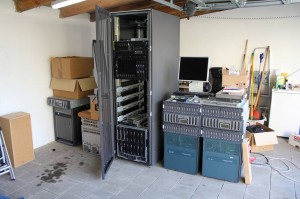 But last Sunday a dream came true. I bought new racks for all my stuff. 🙂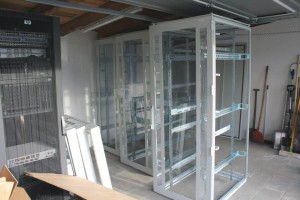 These are 42 units tall Rittal TS8 racks with 80 cm (32 in.) width and 100 cm (40 in.) depth. Enough space to hold lot's of nice hardware. Yesterday I leveled and connected the racks together and it looks awesome. What a crazy home lab !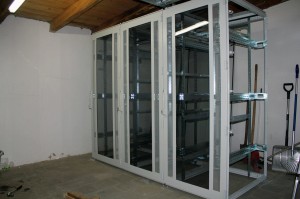 Late at night I finished mounting my NetApp FAS3020 storage system. The very first piece of hardware in the new racks. 😉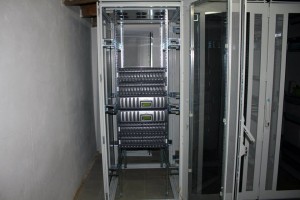 I love the new racks and the new look of my home lab. Can't wait until all my hardware is properly installed.
What's next ? Well, I need several rack mount kits to install all the hardware, but they are expensive especially the Brocade kit for the SAN switches. Providing power is another costly intent, but a very nice subject  for blogging. Least but not last I have some cool networking ideas. Enough material to reanimate my blog. 🙂
I hope you are visiting my homepage in the future again. 🙂 Thanks a lot and best regards… Tschokko